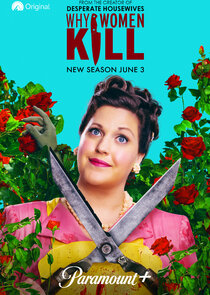 Why Women Kill
Details the lives of three women living in three different decades: a housewife in the '60s, a socialite in the '80s and a lawyer in 2018, each dealing with infidelity in their marriages. The series will examine how the roles of women have changed.
Drama, Comedy, Crime
---
Airing Status: On Hiatus
Show Status: Renewed for a 2nd Season
Episode Order Count: 10
10th Oct 2019
S01E09 - I Was Just Wondering What Makes Dames Like You So Deadly
3rd Oct 2019
S01E08 - Marriages Don't Break Up on Account of Murder – It's Just a Symptom That Something Else Is Wrong
26th Sep 2019
S01E07 - I Found Out What the Secret to Murder is: Friends. Best Friends.
19th Sep 2019
S01E06 - Practically Lethal in Every Way
12th Sep 2019
S01E05 - There's No Crying in Murder
5th Sep 2019
S01E04 - You Had Me at Homicide